Are a very portable medium.
You can easily create on the go in vivid color.
An easy way to work out your ideas before you begin a larger painting.
Require very little setup or take down. And take up very little space.
Can easily fit into a busy schedule - make something in only 15 minutes.
Loads of fun to work into your mixed media artwork.
Are not mysterious or hard to use…they're fun,
and with a few short lessons you'll probably think so, too!
These are your FREE Lessons:
These come directly  from the complete course - The Magic of Oil Pastels 
Lesson 1
A comprehensive look at how different brands of oil pastel work and how to pick your favorite. Also, a review of paper, and other materials you'll need to get started with oil pastels. 
Lesson 2
Color wheel and blending lesson so that you get to know color theory better and how pastels work. Includes a printable color wheel PDF.
Lesson 3
Where would we be without composition? This will give you a good foundation to great compositions and how to build layers in oil pastel so that they look like complete paintings.
Bonus Videos
3 full length videos set to music without talking instruction to watch the process on different compositions and color combinations in floral and landscape.

Check out our Awesome Testimonials about Complete Course: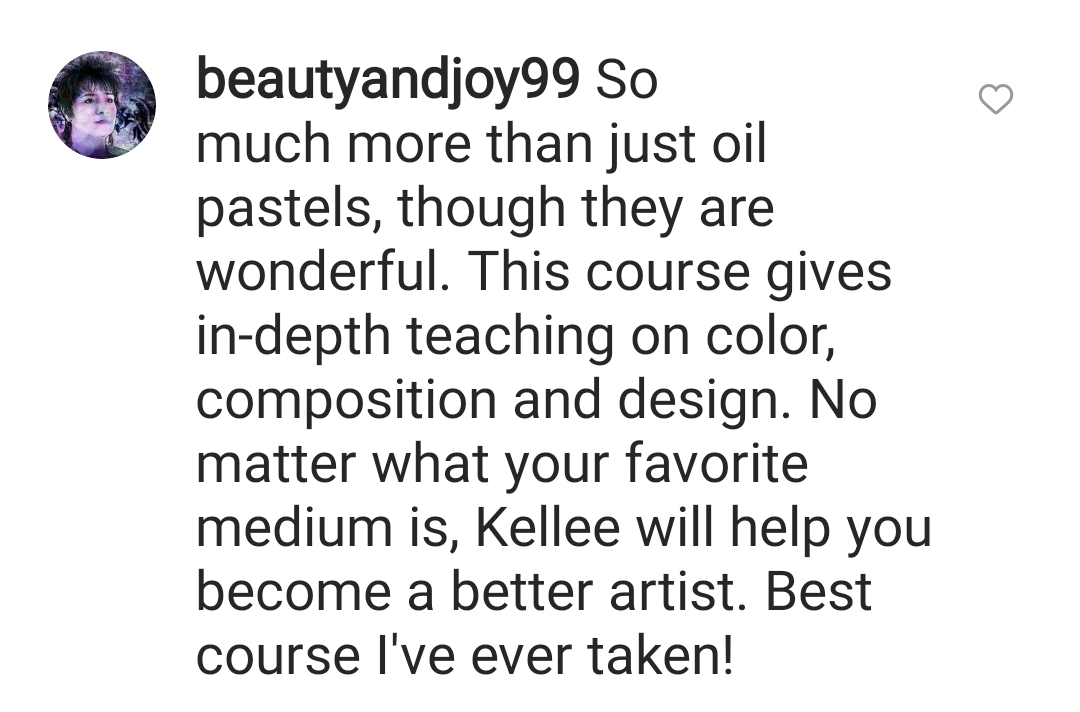 Who this course is designed for:
If you need a kick in the pants to get started with making art again.
If your art practice is becoming stale and in need of new techniques to invigorate you.
If you are looking for a way to maximize your ideas by practicing for bigger works of art.
If you are just getting started making art and don't want to buy thousands of dollars of supplies to make a complete painting.
If you are looking to understand color theory, composition and design in a simple to use medium so that the concepts of art become like second nature to you.
If you want to learn all the possibilities from painting on paper to incorporating oil pastel into mixed media.
If you keep making excuses that you don't have time for your practice and need a very easy, on-the-go medium to create in less than 15 minutes.
If you are simply intrigued by the rich, colorful medium of oil pastels.
If you just like Kellee as a teacher and want to take all her courses. ;)
Frequently Asked Questions
Why Oil Pastels?
Why Not? Seriously they are so versatile, easy to get started, and perfect for testing out composition and designs for bigger paintings. But really, my favorite part is using them in mixed media for that extra pop of color.
Why is it called painting when there's no "paint"?
It's really about how the material is used and how it covers the entire surface of the paper. And honestly, doesn't it look like a painting when it's finished?
I need a basic set! Which one?
I do a complete review of brands and which ones work best and why inside the course and you'll find out quite quickly that the student grade oil pastels are not worth your time. The short of it is I will always recommend Caran d'Ache oil pastels and you can find my optional supply list on my Amazon Storefront
What tools do you use for blending?
My fingers! In all honesty I just love blending with my hands. But usually the best way to blend is with another pastel itself. That's why I go through so much white. There are lots of blending tools on the market, but I know very little about how to use them effectively because I prefer my fingers.
How do you keep them from smearing?
Oil pastels are a bit finicky for displaying. Because they never fully dry, you usually need to display them behind glass with a matboard. However, I have learned that the marks do oxidize over time (the oil evaporates) and I can spray a fixative and then a spray varnish on my canvases so that they can be hung without glass.
How do you clean up from oil pastels? Do you need mineral spirits?
Nope. Just buy a bag of scent-free baby wipes and you're good to go for all your clean-up needs, including your hands!
A Few More Great Messages About The Magic of Oil Pastels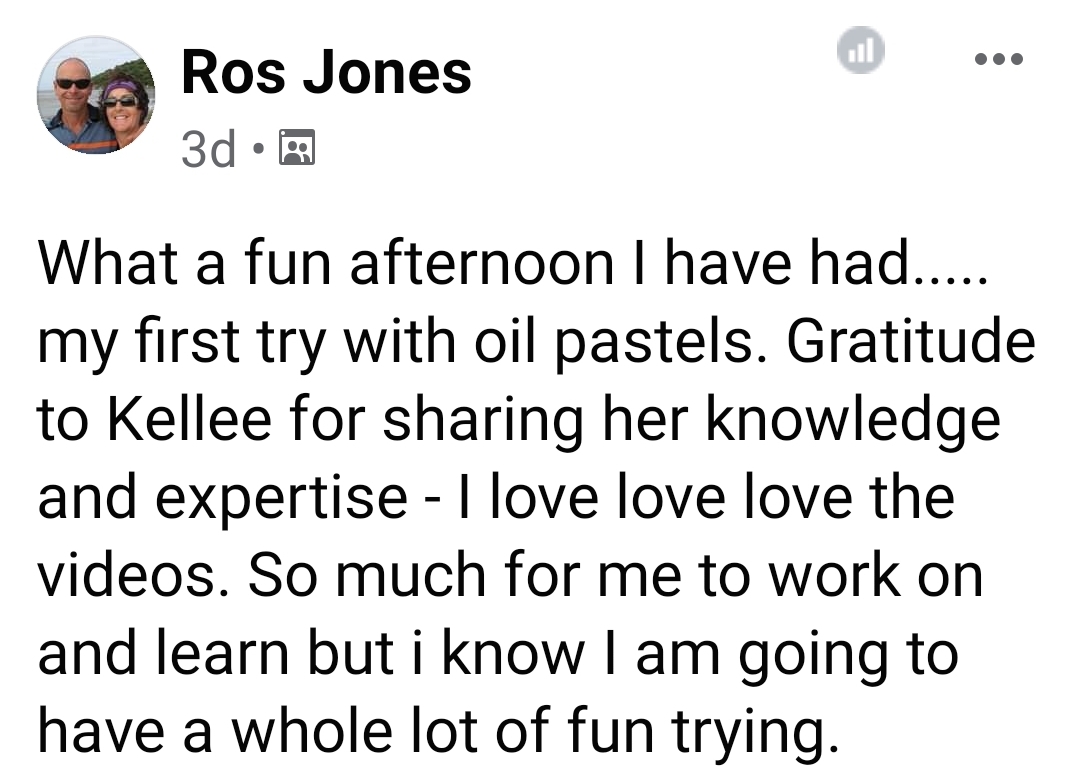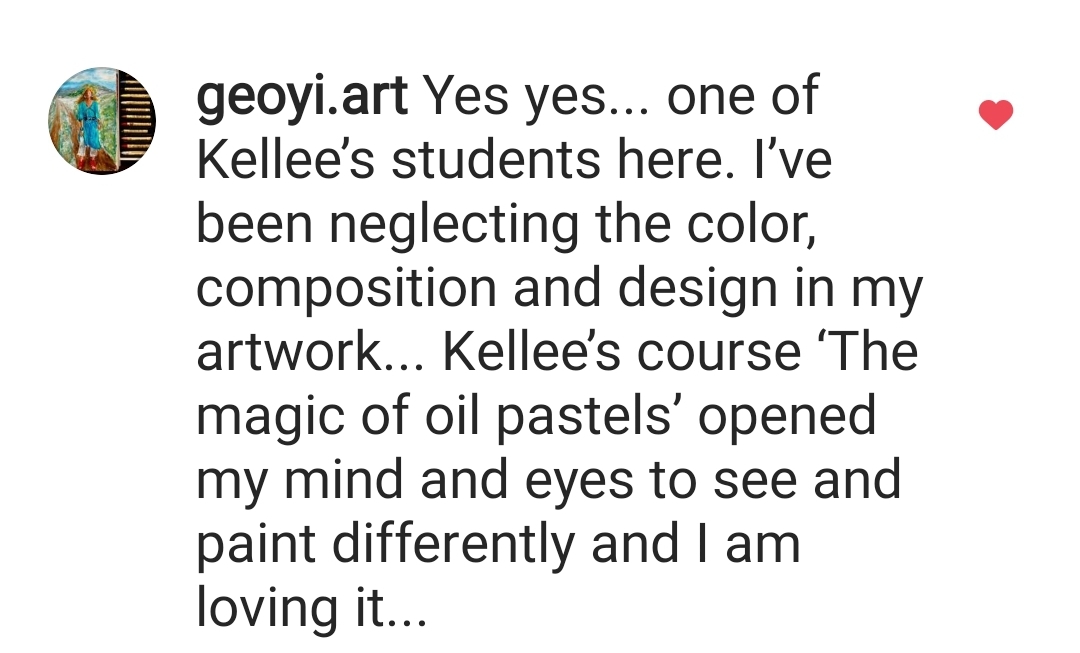 Hey, you made it all the way down here, so before you go, why not take a chance on making art for yourself.  Bring some joy into your life! No risk, no obligation, just a chance to make something with your hands!
And it's FREE...