We are All Creative Beings, Painting With Kara Aina
Kara Aina went to art school earning a BFA in Intaglio and Lithography. Afterwards, she focused on her family and career as an art teacher and did not prioritize her own art. She often told herself that it wasn't her "season" to devote time to her art and that it felt "selfish" to deprive her family of the time and resources it would take for her to pursue it. Nothing could have been further from the truth. Through a series of events, Kara realized that she was not doing anything to replenish herself. She came to the realization that prioritizing art was essential to her well-being and happiness and thus, that of her family as well.
"I realized that I needed to carve out time for my art because nobody was going to give me permission or carve it out for me."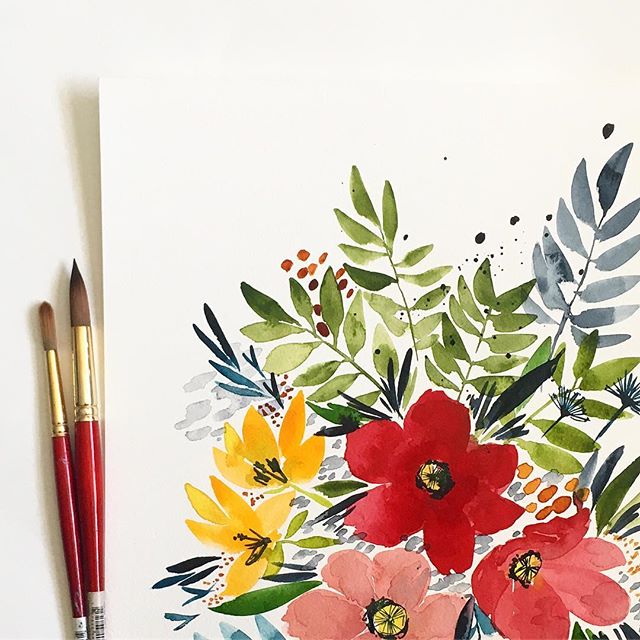 TAKE A LOOK AT KARA'S ART PROCESS:
When meeting even the minimum amount of time for daily creative outlet, Kara finds that she can still be pleased because it means that she is still progressing towards something that she is so passionate about and that refuels her. For Kara, creativity is the ability to gather multiple elements (inspiration, mediums, images, sounds, etc.) and create something that wasn't there before. Often it involves being vulnerable and it takes bravery to create elements that are meaningful, make sense of the world around us or transcend traditional ideas or rules. Creativity also takes patience, commitment and perseverance.
Kara says, "I strongly believe that we are all creative creatures in one way or another. I don't think we can ever be the truest version of ourselves if we don't carve out time for our creativity."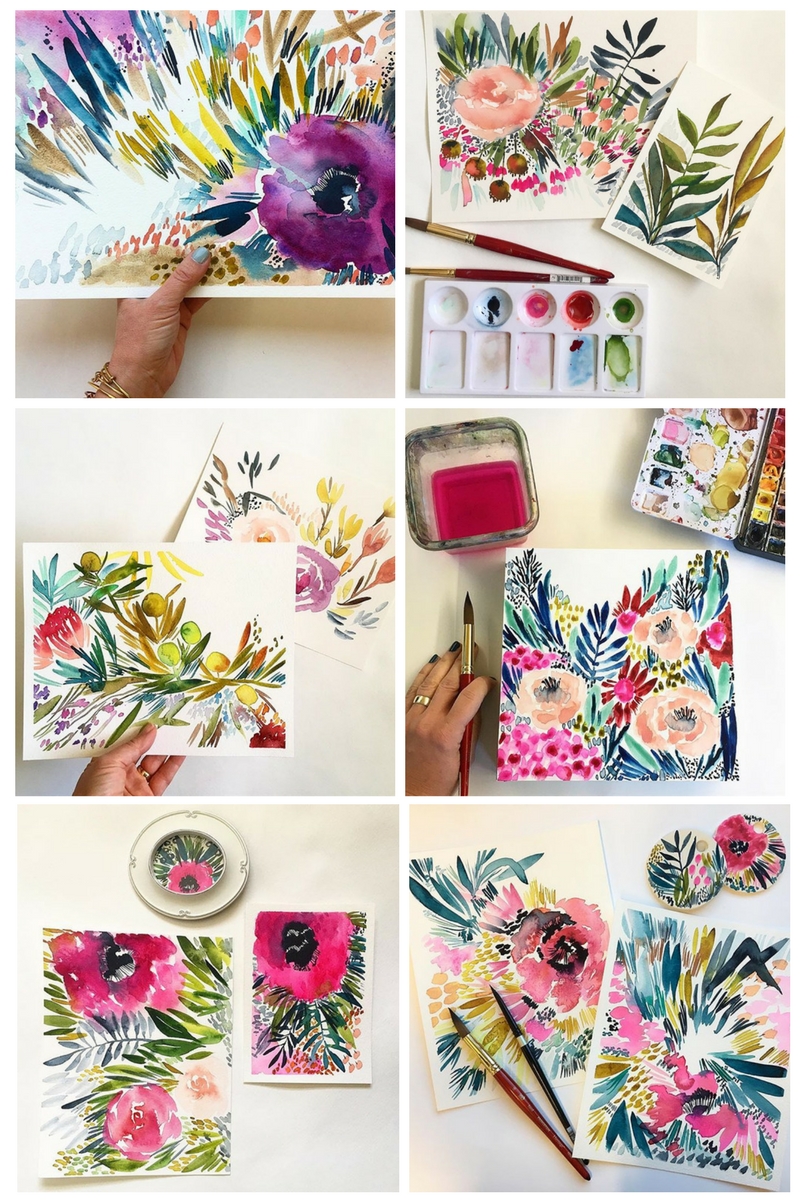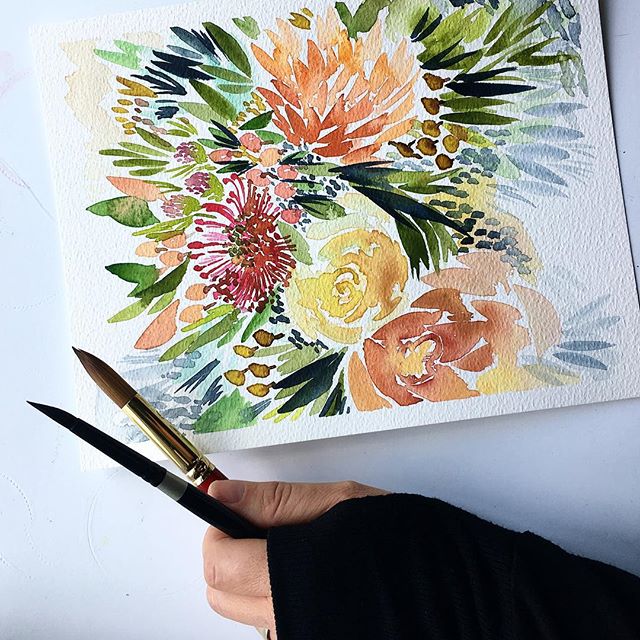 ---
A FEW FUN THINGS YOU SHOULD KNOW ABOUT KARA AINA:
Kara is not only a mother to 4 sons (ages 17, 14, 12, and 10) but a full-time art teacher to nearly 600 students in grades 1-8!

While Kara and her husband were dating they went swing dancing several nights a week and at their wedding reception, they performed a swing number for our guests.

Hailing from Eastern Canada, Kara was enrolled in French Immersion classes from 1st-12th grade. This began her multilingual journey. She also took Spanish in High School and at University, lived in Japan for nearly 2 years and learned Japanese and Portuguese while she was there.

Kara moved to the US when she married her husband in 1999, but because all her family still lives in Canada it has taken her longer to make the decision to become a US citizen than anticipated. As much as she loves the US, she also loves Canada and is grateful for the freedoms and opportunities that they have both provided her.

Besides painting, Kara loves to garden, sew, run and hike, go on road trips with her family, watch movies with her husband, and travel with her sisters.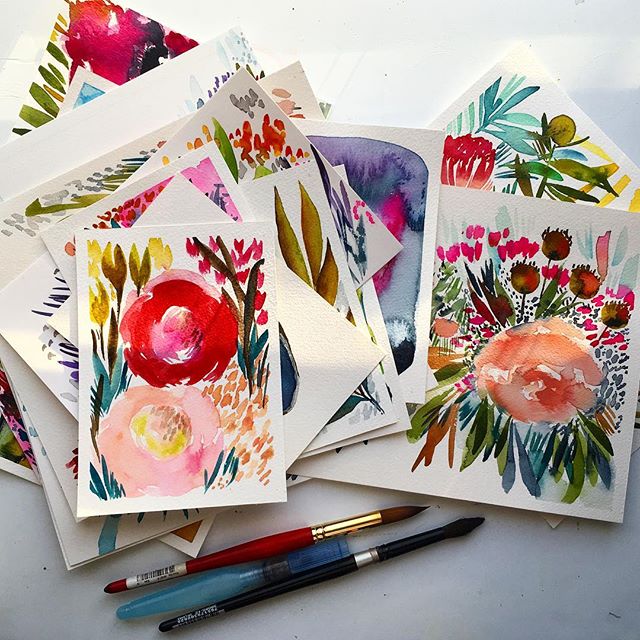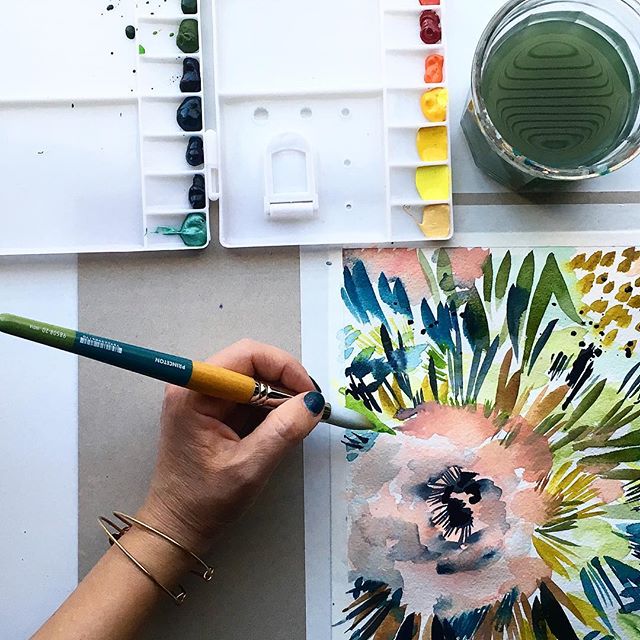 ---
YOUR TURN: LET IT FLOW
Kara's inspiration comes from connections and interactions with nature, shapes, patterns and colors from the world around her. Each mark is a gesture of those elements as she allows the watercolor paint to flow onto her paper.
Try this - get a really large sheet of watercolor paper and let the paint flow off your brush in grand gestures and small marks until the whole page is filled with colorful energy. Don't overthink the process, just go with the flow!
Kara's Favorite Supplies:
Schmincke Horadam Aquarelle half-pan paint set, metal tin with 12 colors
Princeton Heritage, Golden Taklon for Watercolor and Acrylic, Synthetic Sable, Professional Series Set
Arches Watercolor block, 140lb./300 gsm, cold press, 12x16
Tombow Mono Drawing Pen Set, 3 pack
Uni-ball UM 153 Signo Broad Point Gel Pen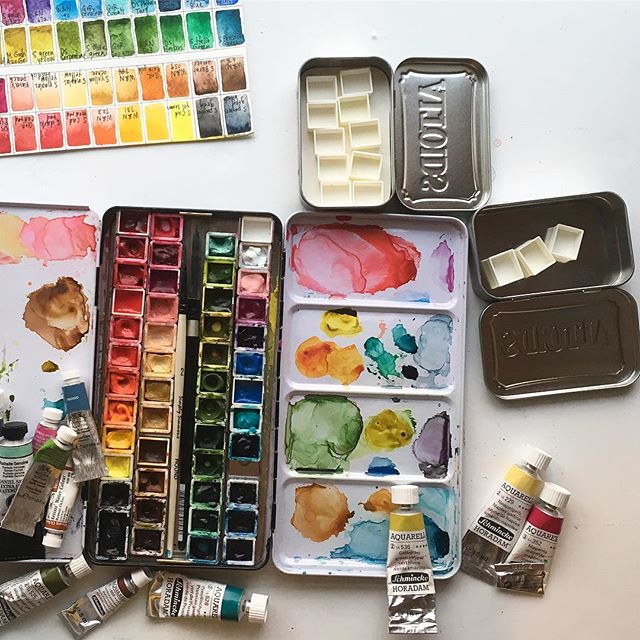 Kara Aina Art Gallery: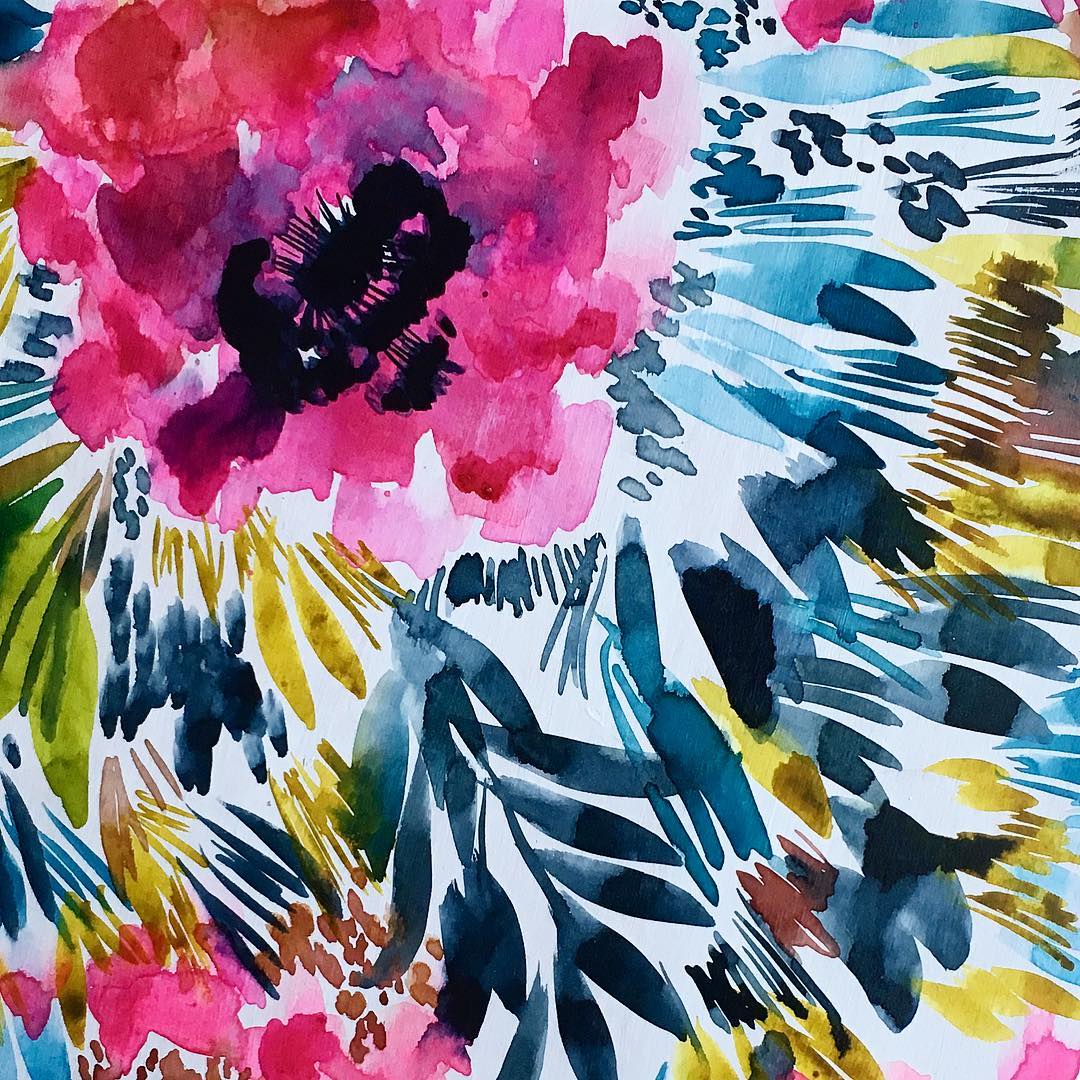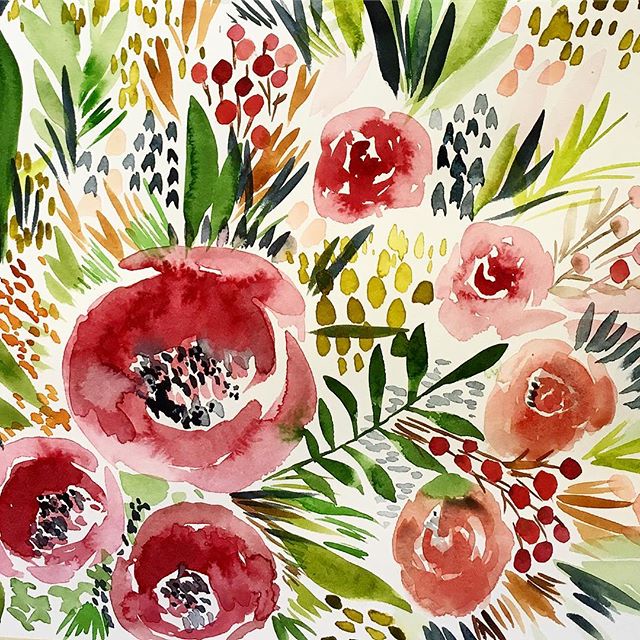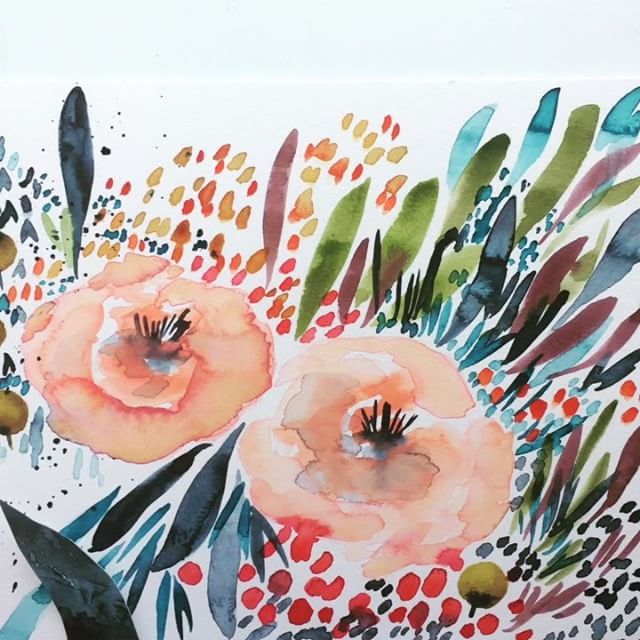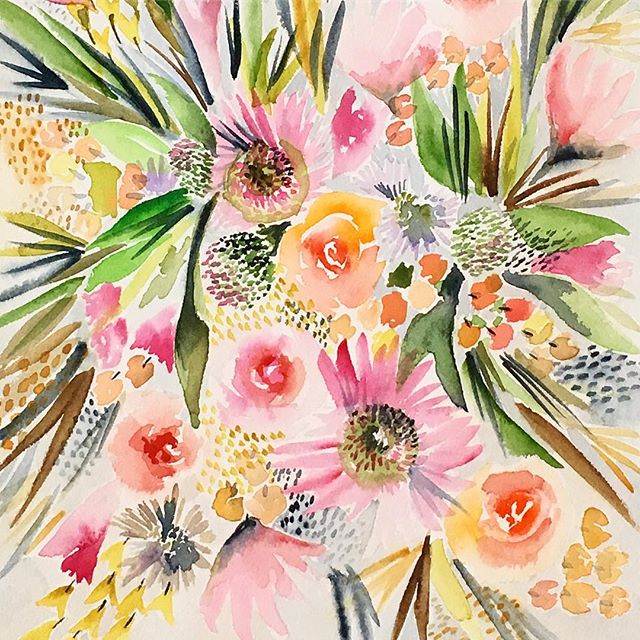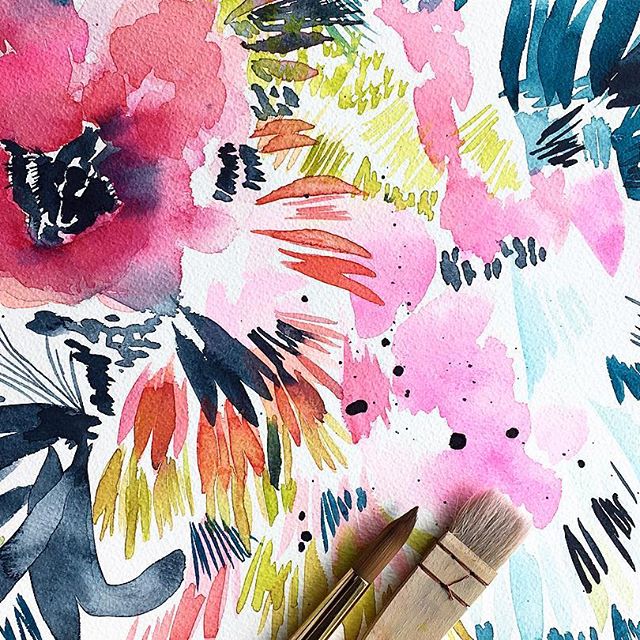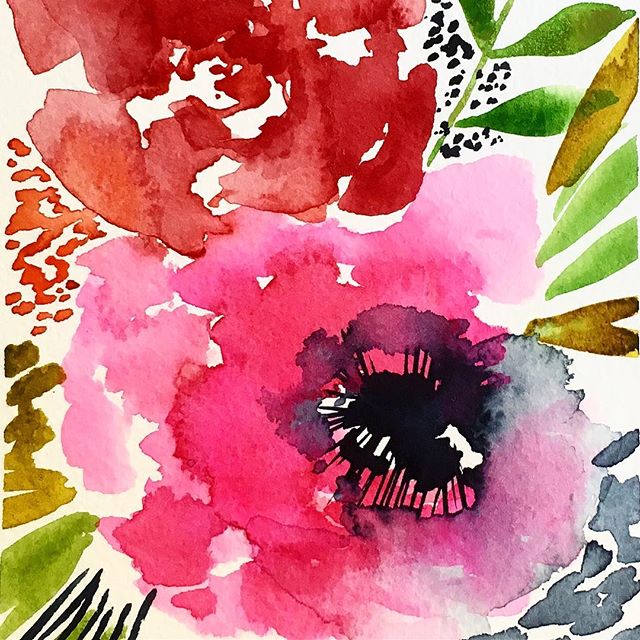 ---