Join us in - Lush Landscapes
Want to tap into a little bit of joy 💫 and happiness 💛?
We have stumbled upon the process of creating mixed-media abstract landscapes and discovered that it has been bringing us Such excitement and openness to dive into the unknown

.

Lush Landscapes will take you on a beautiful Mixed Media Journey to explore abstract landscapes through collage, acrylic, mark-making, and all the layers you've come to love.

Things we Love: 

🎨 Seeing creativity come alive in ourselves and other artists when our/their world expands. 

🎨 Looking back and seeing the amazing progress made. Our abilities to create are ever-growing and changing. Whatever you know now will pale in comparison with what you'll know the more you create. 

🎨 This beautiful new era of artistic expression! We want more! We want to be a Catalyst for you - so you can be a Catalyst for others. The world is forever changing and adapting to new creative outlets and we are here for it, and here to BE a part of that. 

Are you willing to step out of your comfort zone? Use new materials, try a different subject, test your ideas, and work BIGGER.Do you know what this means for our art? We are inventing a new way to do color swatches and we are obsessed! 😍 This course is So. Much. Fun. and far more informative than we ever imagined!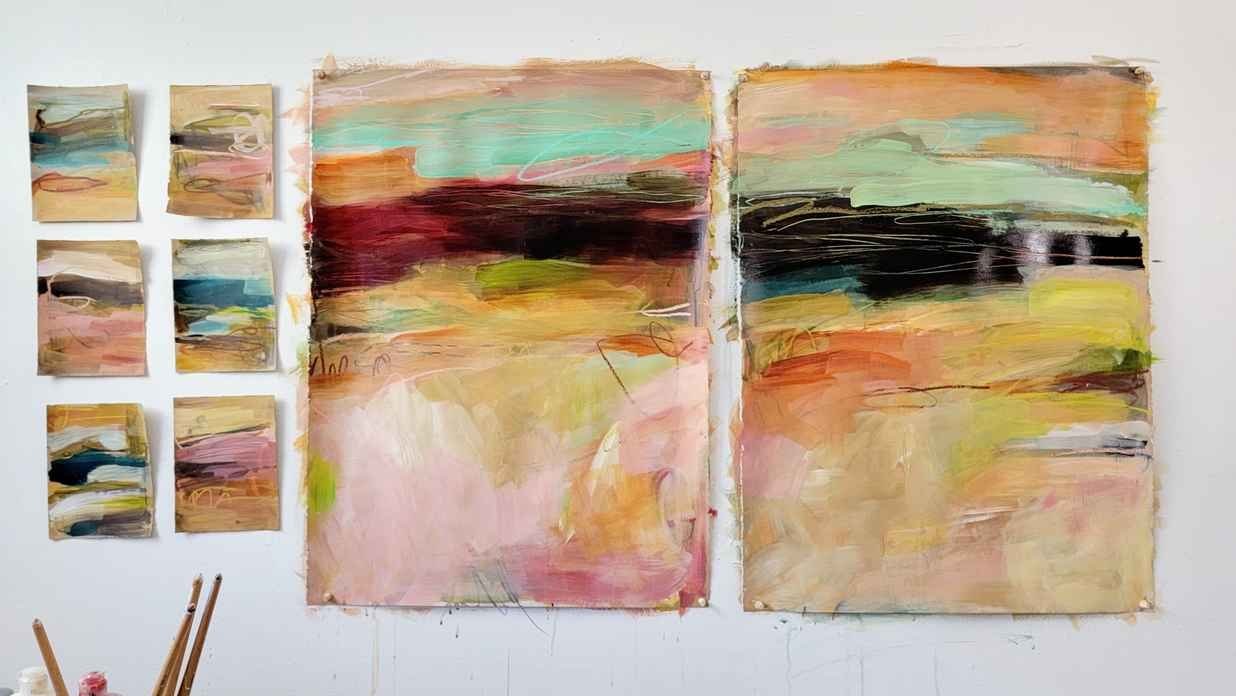 We work from small on paper all the way up to large canvas paintings.
You will learn ways to begin your work and incorporate a multitude of techniques into one work of art with results that are exciting, playful, and completely satisfying to get lost in, with just 3 steps:
1. Start with a foundation of color composition and design with journaling exercises. We'll also cover supplies and making your own collage elements.
2. Take your ideas and loosen up in these playful projects designed to get you thinking outside the box. Working on smaller mixed-media paintings will help inform you on how to go bigger!
3. Everything is a culmination of learning, playing, and experimenting. Create larger works on paper and board that you can use as a launching pad into your own series of large landscapes!
If you've been longing to be free in your work to explore mark-making and wild brush strokes with interesting color choices and turn design on its head... Well, Lush Landscapes is the best next choice you'll want to make for your art growth.
Come join hundreds of other artists who have already taken the plunge into the
#colorgridproject
that has helped them expand into the
#lushlandscapescourse
and make incredible new abstract landscape work.
Click here for Lush Landscapes
We love Lush Landscapes 🍂 Layers, conglomerates, melds, and mixes.