Make Your Mark - Handmade Art Journal Inspiration
Looking for that next fun Fall project?
Is anyone else feeling a little nostalgia this time of year? Some bittersweet feelings about summer coming to a close. Autumn feels like oversized sweaters, crisp morning dew, and all of the seasonal flavors. Are you a 🎃Pumpkin Spice or Apple Cider 🍎 person?
It's a great time to start making lists, and reflecting on what you have done, and what is yet to be done before year's end…
What better way to start dreaming up your next project, than curling up with a warm blanket, a cup of hot cider, and putting your thoughts onto paper? Read on, we might have the right project for you!
Does the change in seasons, and the changes in colors 🍂 have you feeling inspired to bring something to life? We cannot stop thinking about colors, colors, colors. And what about your favorite mixed media techniques?
Make some beautiful little art journals completely by hand!
Head over to the studio (whatever that space is for you) and try your hand at mixed media mini journal pages! Art journaling is essential to learning. We truly believe it will become an important part of your process. It's your space to play and practice, not to show off and sell. That means it's really just for the process. There's freedom in that! Enjoy the process, and turn your results into a layered art journal.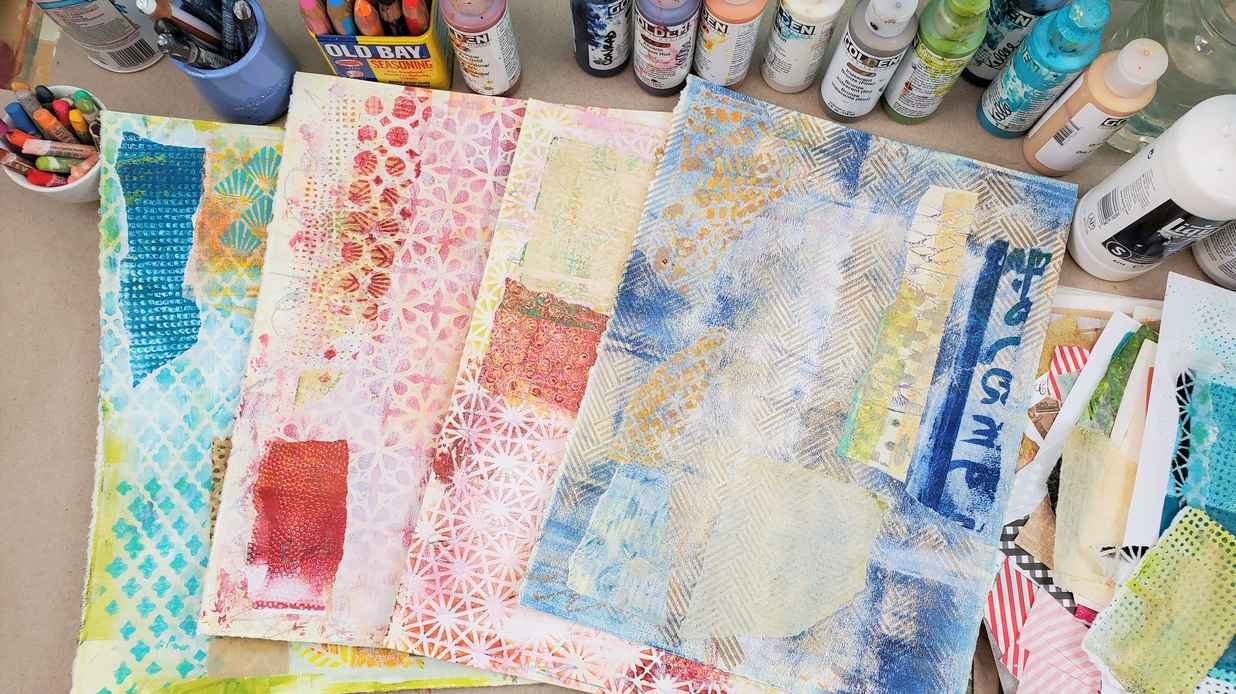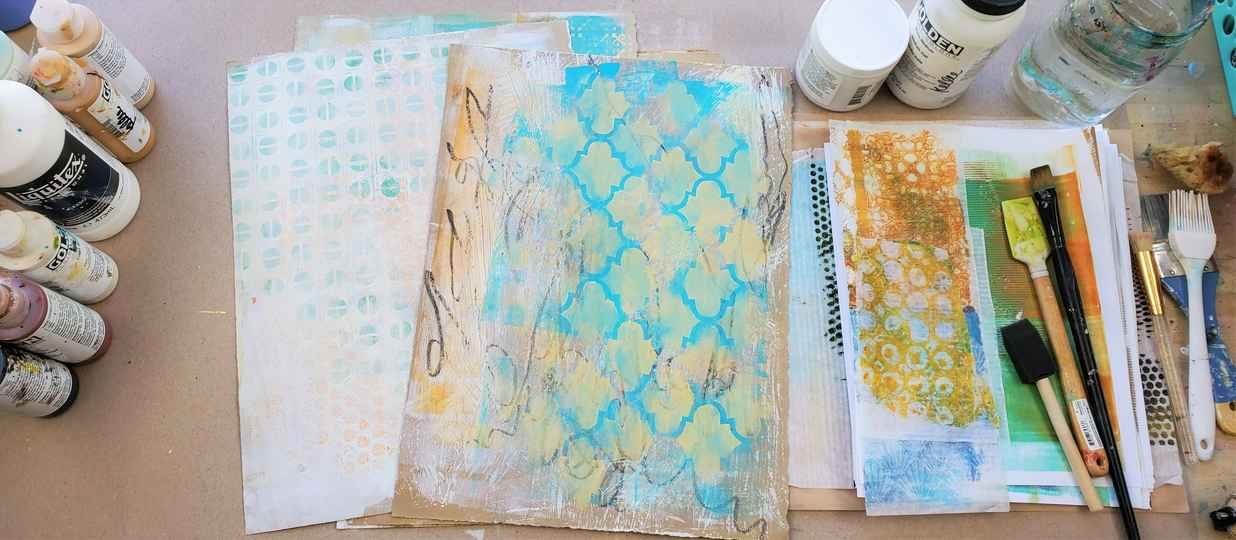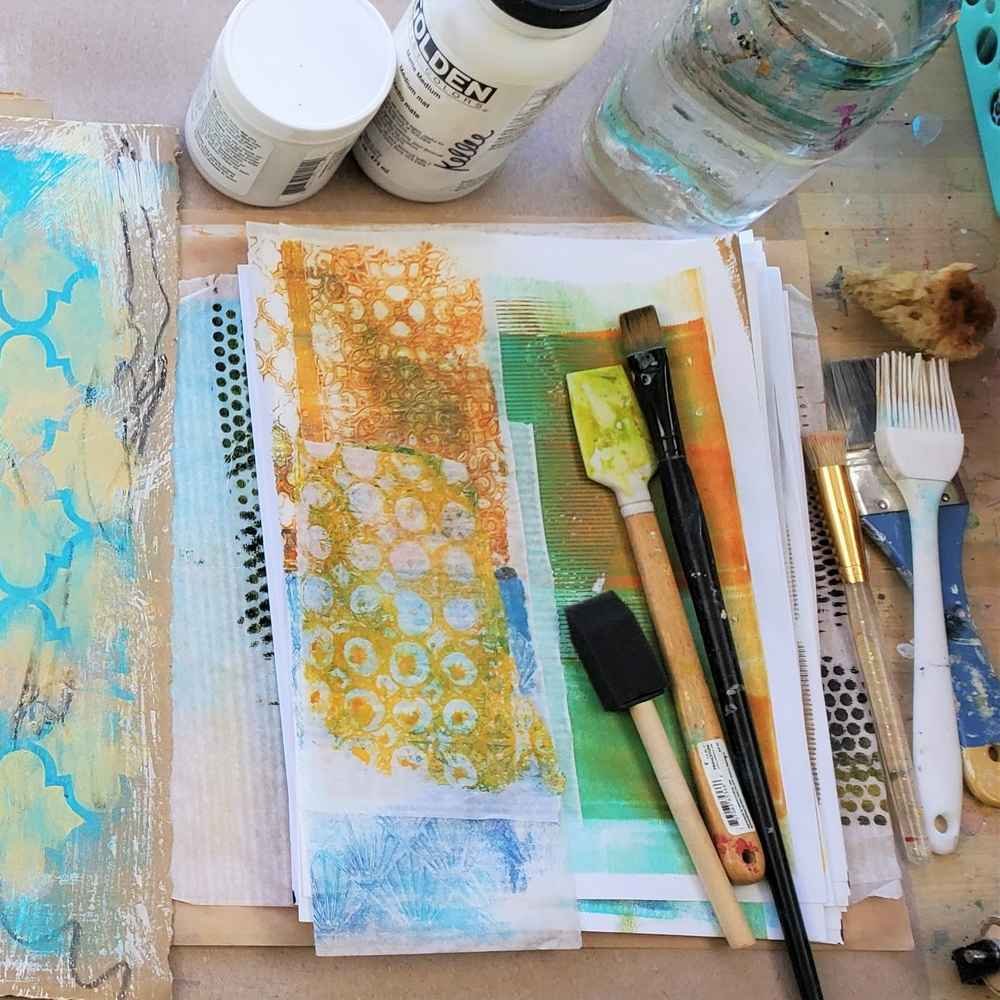 Making your own art journals can be so simple, but SO satisfying. Grab some paper that you love, size it together, punch some holes to tie it together, you can fold it together, or paste it over old journal pages you already have in a book! Create the pages that you want, the pages that will inspire you to use the book. Or, even just pages that inspire you to look through and doodle on.
Here are a few ideas:
Draw your favorite signs and symbols, use black ink pen and line draw the buildings from your town, capture the changing seasons by painting nature images, add travel photos from a mini printer, or write your favorite quotes.
From layering on marks in acrylic, graphite, and colored pencils to creating gel prints for your own collage material. A good layered page requires texture and stenciling too. When you bring all of these things together we can create beautiful handmade art journals together.

Pattern and color-obsessed, as usual.
If we had the chance, we would probably spend the entire year just exploring patterns and texture. What keeps you this interested? What do you think you could explore for a whole year without getting bored? We introduce the layered page.
The perfect mix of play and experimentation for all levels of artists. This is the ideal course for everyone to let out their inner Muse and make something Timeless.
What are some of the things that inspire you to make more art, what is your creative muse? Here are some quick and easy journal prompts that we have been crushing on, thrown in on some of our textured mixed media designs for a little additional inspiration.

Click here for The Layered Page
Write it 🖋️ Paint It 🖌️ Capture It 📷 💫 MAKE IT!

🌈