Are a very portable medium.
You can easily create on the go in vivid color.
Are an easy way to work out your ideas before you begin a larger painting.
Require very little setup or take down. And take up very little space.
Can be easily fit into a busy schedule - make something in only 15 minutes.
Are loads of fun to work into your mixed media artwork.
Are not mysterious and hard to use…they're fun and with a few short lessons you'll probably think so, too!
Designed so that even a brand new artist can approach art making with ease and the experienced artist can discover something new about a lesser used medium, The Magic of Oil Pastels is a course that has something to offer every artist.
Let loose and learn to scribble again, with lovely painterly results.
Using just a few supplies and some good tips, you'll be on your way to painting with oil pastel.
You get:
80+ Lessons with over 21 hours of content
Active Facebook group with LIVE Q&A's
Downloadable PDF resources & guides
Includes big bonus course: Foundation Essentials
"I love that I was able to jump right in as a beginner and feel free to play with this new art medium for me. It has so many lessons to watch and explore. Just having access to watching Kellee go through the process of creating these oil pastel paintings has sparked a new joy in my days! There is so much material in this course....I will be creating, learning and experiencing the joy for months!!"

Mary Julia Skewar

"I am an oil painter so this works brilliantly for me to try out ideas on a small scale for larger paintings and it can be done fast - 15 minutes at the dining room table. "

Michaele Wynn-Jones

"The 'Magic of Oil Pastels' is a very complete course which is a joy to follow . It gave me lots of creative ideas . I get a little stuck on the blank page sometimes . Now I just danse with all those amazing Colors on my pad/ paper with my fingers et voilà !

I have never really mastered oil pastels before but I am really getting the idea now. I cannot recommend it enough!"

Geraldine Roy

"I finally got the myongo pastels I ordered, and sat down to create painting #12/100, a landscape. As I was creating I was filled with so much gratitude to have found Kellee's course as finally I am able to create the landscape paintings I've been dreaming of in a time frame that is doable!

The title of the course is perfect, because it truly is magic as one sees small works of art emerge from just oil pastels, paper, and of course Kellee's instruction and generosity of information."

Sara Rivka Dahan

"Two years ago when Kellee released The Magic of Oil Pastels, I signed up. My life changed forever.

I believe that the class was instrumental in moving my art to a new level.

I have watched all of the amazing art that is being created and I pulled my pastels out today and played. It has been awhile since I sat down and created a piece using oil pastels. I made a promise to myself to complete 100 oil pastels. I am about halfway there.....Getting back into the swing, remembering the joy. Play and practice.

Kellee is amazing!!!"

Joy Taves
What to Expect in this Online Course:
80+ lessons with over 21 hours of content
A comprehensive materials and brand review showing you exactly what results you'll get depending on the supplies you use.

Essential foundation lessons in color theory, composition and design.
Complete start to finish lessons with narration so you know exactly what I am doing as I do it and why.
Alternative uses of oil pastel in mixed media with video demos.
More than 40 full length videos set to music so you can watch my process on different compositions and color combinations.
Printable quick guides for color choices and composition designs for each of the process videos.
A collection of copyright free stock Images to use as inspiration or to recreate for your artwork.
Yes, you get to keep this course indefinitely.
Download or watch online as many times as you'd like.
Here's what other's have to say about The Magic of Oil Pastels

How the Course is Laid Out:
MODULE 1
Introduction, Know Your Supplies, Understanding Color theory with color wheel lesson in oil pastel, Compositions for Abstract Florals, PDF Printable Lessons
MODULE 2
4 Complete Abstract Florals Lessons, 27 full length videos set to music without instruction to watch the process on different compositions and color combinations, Printable Color palettes and composition guides.
MODULE 3
Original lesson using oil pastels in mixed media. A bonus art journal lesson. Bonus Large work on cradled board complete process video. Watch how Kellee makes her large paintings come alive with oil pastel!
MODULE 4
Landscape Module
Composition and color theory specifically for Landscapes, 4 Complete Modern Landscape Lessons, 20 full length videos set to music without instruction to watch the process on different compositions and color combinations, Printable Color palettes and composition guides.
MODULE 5
Mixed Media Module
New Mixed media lesson to include floral and landscapes in acrylic with oil pastels as the star of the show creating interesting marks and pops of color to complete your work. Extra supply lesson for those who wish to venture into acrylic mixed media painting. 
LIVE Q&A
In The Facebook Group
Live Q&A and painting demo (in all mediums) broadcast from Kellee to help you with any questions you might have with the course or the materials or a boost to keep you going!
You get:
80+ Lessons with over 21 hours of content
Active Facebook group with LIVE Q&A's
Downloadable PDF resources & guides
Includes big bonus course: Foundation Essentials
Check out our Awesome Testimonials about The Magic of Oil Pastels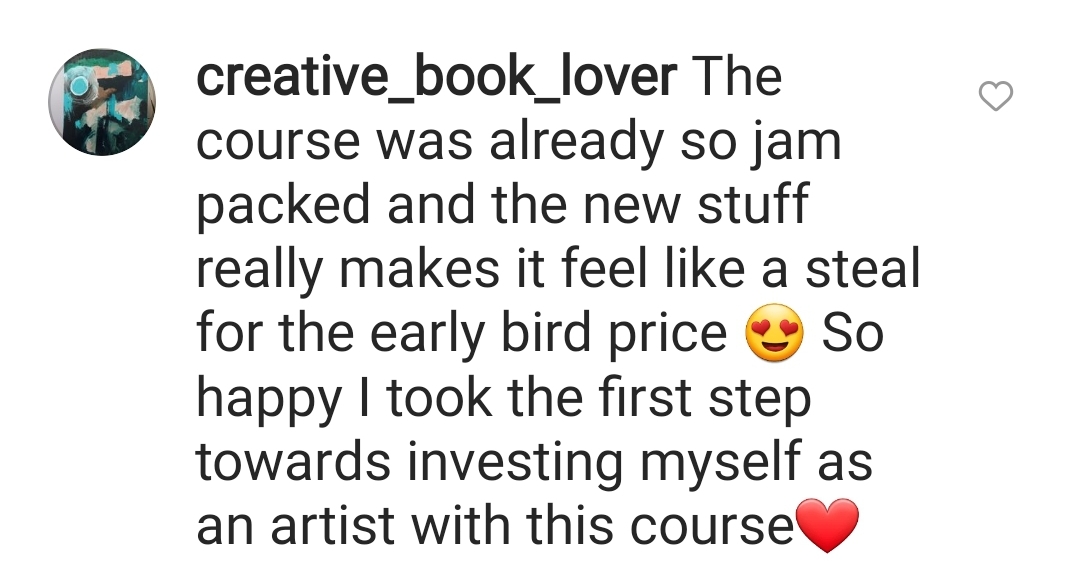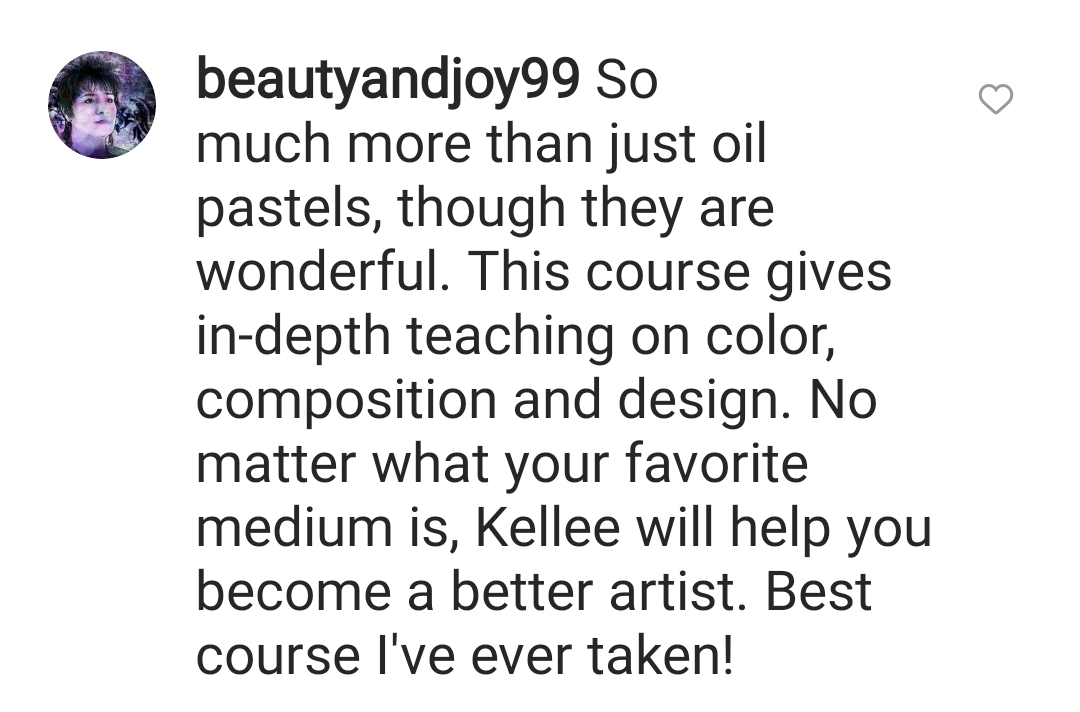 But wait... there's more, Your Bonus Course!
In addition to the HD Video Lessons in your new online course, you also get the complete Foundation Essentials bonus course worth over $150 and packed with over 20 lessons when you enroll today. 
You don't need to feel lost when it comes to the techniques you need to get started making art!
Painting Basics
This module will provide lessons on preparing your canvas, choosing brushes, the difference in types of acrylic paint, how to use fixatives, varnishing and wiring your canvas.
Color Harmony
Let's deepen the color mixing experience by reinforcing color theory with a thorough lesson on color theory to help you learn what makes for great color combinations and what makes mud.
More Color and Composition
We're not stopping with the color wheel. In the next module let's explore muted colors, mixing vibrant greens, value and what makes a a strong composition.
Mixing Lab Sampler
Finally, in the last module we practice our new found color knowledge by mixing up predesigned palettes colors using only 3 tubes of paint - cyan, magenta and yellow plus white.
If you feel like you don't get the full value from this online art course and additional bonus, you can make a request anytime within 14 days and we will happily give you a full refund.
Frequently Asked Questions
Why Oil Pastels?
Why Not? Seriously they are so versatile, easy to get started, and perfect for testing out composition and designs for bigger paintings. But really, my favorite part is using them in mixed media for that extra pop of color.
Why is it called painting when there's no "paint"?
It's really about how the material is used and how it covers the entire surface of the paper. And honestly, doesn't it look like a painting when it's finished?
I need a basic set! Which one?
I do a complete review of brands and which ones work best and why inside the course and you'll find out quite quickly that the student grade oil pastels are not worth your time. The short of it is I will always recommend Caran d'Ache oil pastels and you can find my optional supply list on my Amazon Storefront
What tools do you use for blending?
My fingers! In all honesty I just love blending with my hands. But usually the best way to blend is with another pastel itself. That's why I go through so much white. There are lots of blending tools on the market, but I know very little about how to use them effectively because I prefer my fingers.
How do you keep them from smearing?
Oil pastels are a bit finicky for displaying. Because they never fully dry, you usually need to display them behind glass with a matboard. However, I have learned that the marks do oxidize over time (the oil evaporates) and I can spray a fixative and then a spray varnish on my canvases so that they can be hung without glass.
How do you clean up from oil pastels? Do you need mineral spirits?
Nope. Just buy a bag of scent-free baby wipes and you're good to go for all your clean-up needs, including your hands!
"I have never known how to use my beautiful Sennelier oil pastels, which I owned for many years. I came across The Magic of Oil Pastels in an accidental but serendipitous way!! And thus begins another love!!

Kellee's enthusiasm, guidance, support and encouragement is at a high level!! Her course is jam packed with videos and instructions. I've only done a few lessons so far...but oh my, even to a novice like me with this medium, I think these little sticks of colour have no limits!!

Thank you Kellee Wynne Studios for sharing so much!!!"

Lisa Johnson

"With very little background in art, this class let me create beautifully from the first video. The instruction is clear and helpful and the videos really guide you through technique without a lot of talk or 'information' that gets in the way.

I got right into it and am in love with the medium and am so excited about what I'm able to do within the first week or so. Wonderful investment, deep pleasure in this class. Also the Facebook group is very active and supportive. "

Lisa Claudia Briggs

"I don't really have an art background, but I wanted so much to get creative in my life. Like in a daily practice.

With 3 kids under 5, I was in search of a medium that I could use quickly and with few supplies. Never was interested in oil pastels, until I came across The Magic of Oil Pastels and its 15-minutes art painting. I was sold!

The course is jam packed with tips and tricks on how to use oil pastels for painting (yes, painting!). But what I love the most about the course, it's the freedom to play Kellee gifted us. There is no pressure, no dos and don'ts about her way to paint with oil pastels.

It's so refreshing, and inspiring! Oh, and the Facebook community is worth gold!"

Jenny Sky Walker

"I am an octogenarian mixed media artist who has had oil pastels and water soluble oil pastels parked in my supplies since my children were in school. I rarely throw out anything art related or possibly art related so I am beyond enthusiastic about this course because Kellee Wynne has shown me so many ways to use oil pastels and to combine them with everything else on hand to produce really stunning results. Her techniques and presentation are wonderful!"

Carolyn Coyle

"I feel Kellee got the one of the best taste in colors. Thanks Kellee it's so lucky to come across this course. Please keep doing it, never stop. Acrylic flower + oil pastel course would be great too ! Thanksss!"

Wendy Zhang
Who this course is designed for:
If you need a kick in the pants to get started with making art again.
If your art practice is becoming stale and in need of new techniques to invigorate you.
If you are looking for a way to maximize your ideas by practicing for bigger works of art.
If you are just getting started making art and don't want to buy thousands of dollars of supplies to make a complete painting.
If you are looking to understand color theory, composition and design in a simple to use medium so that the concepts of art become like second nature to you.
If you want to learn all the possibilities from painting on paper to incorporating oil pastel into mixed media.
If you keep making excuses that you don't have time for your practice and need a very easy, on-the-go medium to create in less than 15 minutes.
If you are simply intrigued by the rich, colorful medium of oil pastels.
If you just like Kellee as a teacher and want to take all her courses. ;)
One thing that makes oil pastel a really great choice for starting out or making art on the go is that you need very few supplies. Just the pastels, paper and some wipes to clean your hands and you're set to make art!
Your results will improve with better supplies.
I use and recommend Caran d'Ache Oil Pastels and Legion Stonehenge Paper.
You can view my preferred supplies on my Amazon Storefront.
Easy to use hosting system to watch all the content and easily interact with your host and other artists.
All lessons are lifetime access and downloadable. *lifetime means for the life of the business' viability.
Email support M-F to help you with tech or materials questions.
Two LIVE video webinars with Kellee to support you in your art journey. They will be recorded and saved to the online classroom for continued viewing.

I'M KELLEE WYNNE CONRAD, Artist, Mentor, and Your Creative Guide.
Wynne (said win) is my middle name. I'm a redhead, I married a redhead and we have three redhead boys. It's never quiet around here! Art is my outlet and passion in the midst of a wild life. I am the founder of Color Crush Creative and author of the art book "Mixed Media Color Studio" which dives into my Modern Color Theory ideas.
After teaching more than 10,000 students in my online courses and in-person, I have come to see that what you really crave is permission to enjoy the process and create without fear and we do that in every course I teach. I am passionate about helping you find your own voice and your place in this wide world through expressing yourself creatively. Let's enjoy the journey together!
My tip is for beginners and experts alike.
(Not to simply repeat every other basic advice I've heard but this fact is universally true.)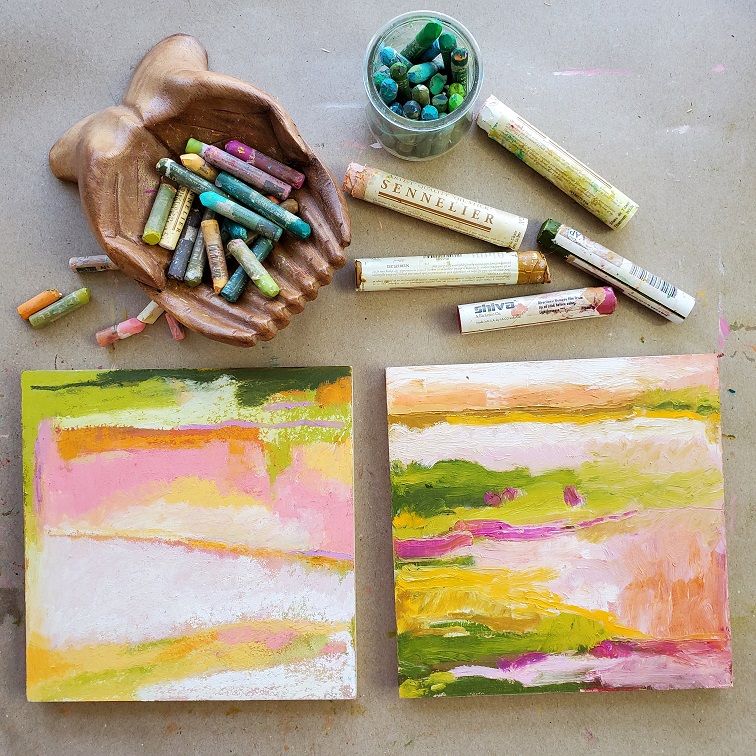 You have to make a lot of artwork to know how to make your artwork. You even have to make bad artwork. It's the best teacher. The more you make the more you will begin to understand what you like and don't like, what works for you and what doesn't, what excites your soul and what bores you...and these discoveries will lead you to where you want to go.
And as soon as you think you know, you must do it again because we are ever changing and growing.
A Few More Great Messages About The Magic of Oil Pastels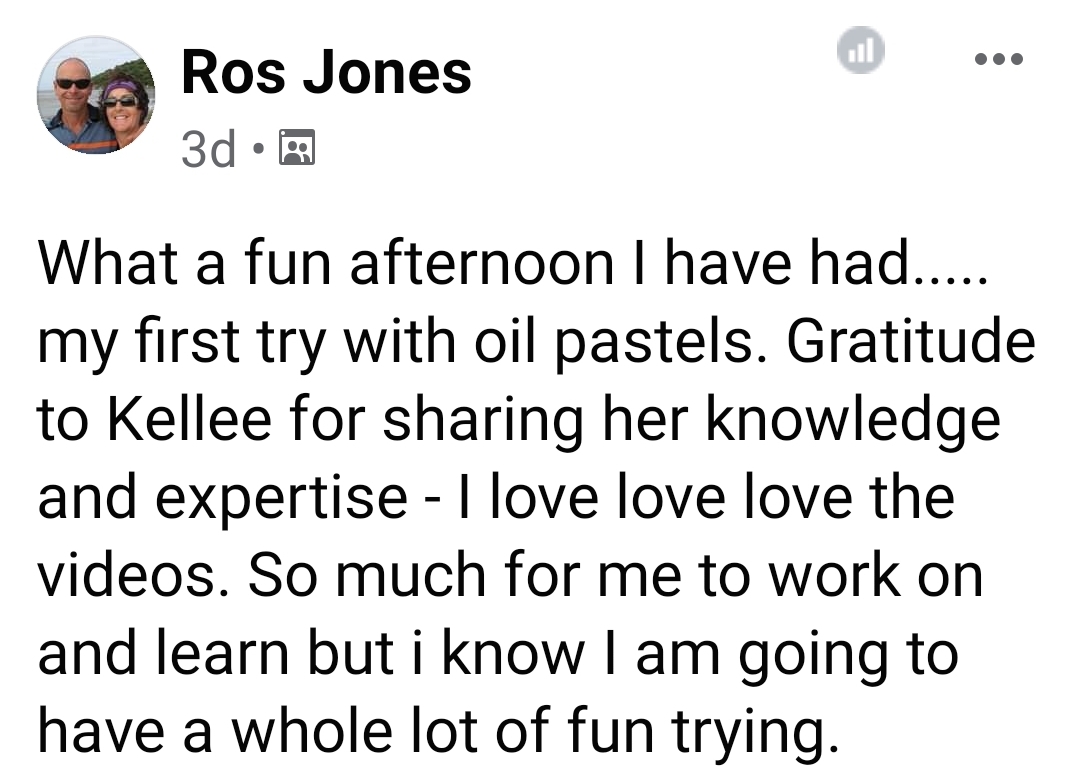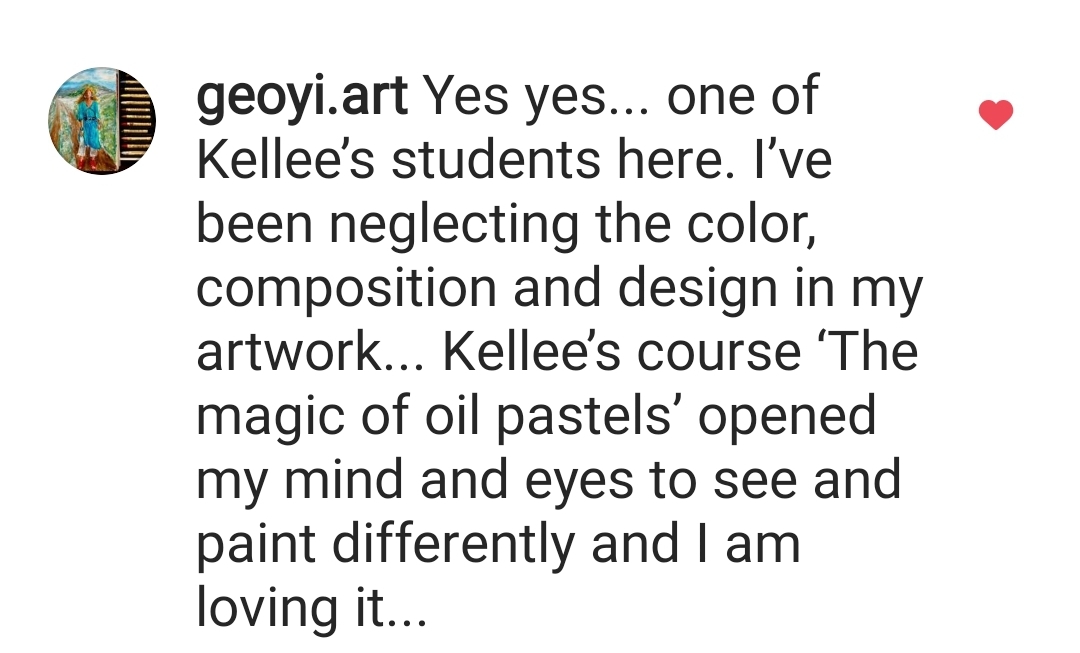 "You have to Make a lot of Artwork to know how to Make your Artwork!"