More Than Mixing: Let's Analyze, Inspire and Explore!
Discover True Colors in your art.
Every palette has a story. And the only way to know how color works is to learn what happens when you mix the colors yourself. You see color differently when you harness the power yourself. Imagine what that does to your artwork.
 Here's what we are talking about today… how to analyze your art, inspire your art, and explore all of the possibilities at your fingertips. 

When we talk about analyzing our art, we are talking about what it means to YOU. Does the painting generate an emotional reaction in you? Are you pushing the boundaries with the techniques you already know? What is the overall mood of the painting? Let's use these questions as some jumping-off points… and keep these in mind while we apply some different tricks below for analyzing our work. 
4 Tips for Analyzing Art🤓 :
Take photos -  This helps you see your work in 2D form and be removed from the work you've been intimate with. 

Try different orientations -  If you work in abstract and you get stuck, try rotating your work to find a new angle that might work better for your design.

Hold your work up to a mirror -  This works much like taking a photo, but the reversal of the image helps you catch common composition errors.

Know when to walk away -  It's especially wise to take a break if you get stuck or if you've been working too long. Fresh eyes will help you figure out what to do next. 
As with everything in art, once you've learned the rules, you can throw them all out. Do you have to do the same thing for the whole series? Do they have to all be of the same medium and size? Only you can decide what works for you, but if you are going to run a marathon, you should start somewhere...and I think if you do the work you'll see the results. Go for wild ideas and enjoy the process!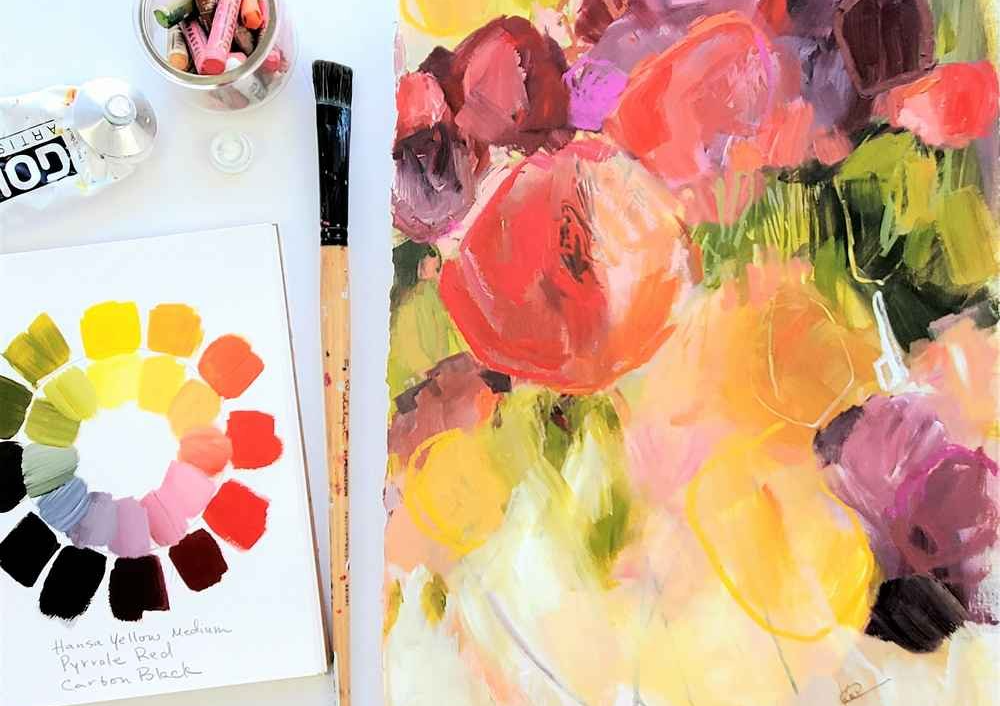 Paintings from limited palettes are found to be more harmonious. Old masters used limited palettes by default because they just couldn't get the range of pigments that we have now, and look at the masterpieces that have been the result!
The best way to understand color is to mix it and play with it yourself. Choose any 3 primary colors (yellow🟡, red🔴 & blue 🔵) plus white and mix your own color wheel. Keep a record in an art journal for future reference. Try at least 3 different HUES to make new color combinations. Then experiment with creating a painting using your new color mixes. Don't forget to add lots of white to make TINTS.
Now think outside of the box and put together 3 colors that you wouldn't think go together. Why do they work when you mix up a color wheel of muddy hues? Because all the shades and tints derive from only 3 colors plus white and that in and of itself will lead your painting to color harmony. This is only the beginning of your journey with mixing palettes…. introducing the True Colors Mixing Lab. 🎨 Every palette has a mixing lesson in acrylic and is matched with a mixed media art journaling project so you can implement the ideas into real art practice.
The True Colors Mixing Lab is specifically for color mixing exciting palettes using only Primary Magenta, Primary Yellow, and Primary Cyan plus White. And then using those mixed palettes to create acrylic and mixed media paintings. 18 mixes, 18 paintings, and more than 10 hours of content.
Years and years of color mixing 🌈 and color research 🌈 and color theory 🌈 and color crushing 🌈 have led to an exciting formula that's so easy to understand, even professional artists wish they had known these concepts sooner!