Do you Dream!? Do you put those whispers into the world like magic and look for them to appear in your life? Maybe you need someone to guide you to take a stronger grasp and write those words to your heart's desires!

Together we'll learn new art techniques, write down our dreams, connect with like-minded creative souls and find Joy in a simple but meaningful creative outlet.
Join Kellee Wynne for a whole year in Deck of Dreams 365. Regular Price $149
A Whole Year of Art with Kellee Wynne and guest artists.
Inspiration Delivered Monthly, saved in the hub to create at your own pace.
Content has Lifetime Access and can be downloaded.
Learn Mixed Media Techniques, including stamp carving, gelli prints and more!
Dozens of Inspirational Prompts and Printables you can use in all your artwork.
Knowledge about Color, Composition and Design infused into fun lessons.
The replay of the Original Deck of Dreams Live Event right in the hub.
All lessons hosted on an easy to access website.
Access to a joyful Facebook community of like-minded creative souls.
365 Mantra Cards to create throughout the year to keep your Creativity Alive and your Heart Full.
NOW WITH A MONTHLY GRID JOURNAL LESSON!
Limited Time Special!
Regular Price $149
The Hub already has Content to help you get started with what to expect, supplies, and the original live event replay to watch on demand.
An entire prep and play course teaches you the foundation of creating your deck cards to help you learn more about the techniques and set up of the year ahead.
Every month on the 1st a new chapter will be added to the hub that includes video lessons, printables, palette suggestions and an inspiring theme to reflect on.
Expect surprise guests, unique ideas, an inclusive community and bountiful bonuses. You never know what will pop up next in our 365 project!
Here at Color Crush Creative we take our art as wildly playful, but our customers seriously. All our courses are backed by a 14 days guarantee. If you don't love it you can request a refund. In fact, if you have any questions, concerns or technical challenges, just reach out to our amazing team and we'll be there to guide you.  admin@kelleewynnestudios.com
If you have more questions about this course, the benefits of Color Crush Creative as your creative inspiration outlet or how Kellee Wynne and her team will serve you, please jump on over to this link:
Hey, you made it all the way down here, so before you go, why not take a chance on making art for yourself.  Bring some joy into your life!
Deck of Dreams 365 is a meaningful, playful outlet for all artists and art curious people. With an amazing community, monthly inspiration and fun bite sized mixed media lessons, it's one thing you'll find easy to fit into your schedule. Something you get to do just for yourself.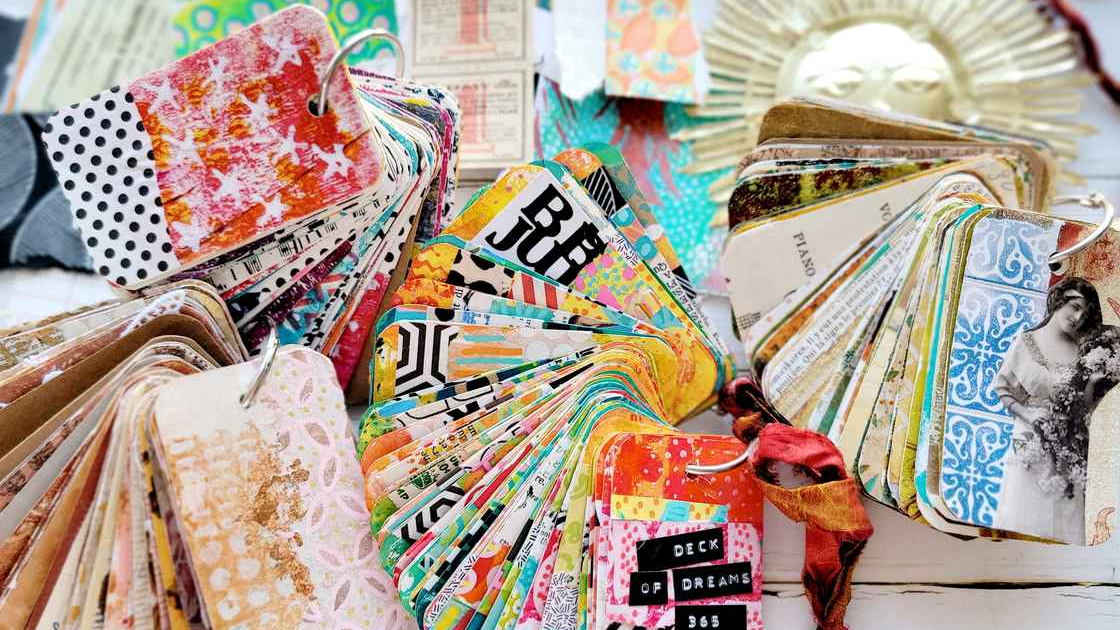 Join Kellee Wynne for a Year of Creativity